Fire won't wait, plan an escape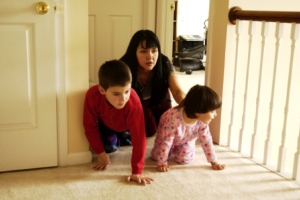 Fire Kills!
If I was to say the words 'Evacuation Plan,' immediately your mind would spring back to that picture on the back of the door of the hotel room you stayed in, your work place, or of cold spells spent on the playground after the dreaded school fire drill.
With a high percentage of fires actually starting within the home, then why is an home evacuation plan so often overlooked? Maybe it is because, rightly so, that we see our home as our safe haven and we simply don't think that it could happen to us?
Having served as a firefighter for over 15 years I have seen the devastating effects of fire, from the loss of belongings, a home or tragically the loss of life.  Fire can spread rapidly through your home, leaving you as little as 1 or 2 minutes to escape after hearing the smoke detector.  Please protect yourselves by ensuring that you have got smoke detectors, they are located in the correct place and that you test them on a weekly basis. This precaution can literally save your life.
With it being half term in some parts of the UK why not make this the ideal opportunity to gather up your little angels and go through a simple fire evacuation plan for your home. We all hope that we will never need to use it but isn't it better, in the words of a Cub Scout, to 'Be prepared!'
When deciding to make an evacuation plan there are a few points below that you may like to consider:-
Involve everyone in the household, including the kids and take a walk through your home,  pointing out all possible exits including windows and doors.
 Visit each room and ask them if they can point out two ways out.
All windows and doors should open easily to allow you to get outside if necessary
Choose a safe meeting place outside the front of your home, if possible,  it could be a special tree or a sign post, teach them how to escape on their own as you may not be able to assist them.
Ensure that your house or building number is visible on the street outside of your home.
Talk about the escape plan that you have made and practice it regularly with everyone in your home.
If you have to escape through smoke, 'Get low and go' under the smoke.
Learn the emergency number 999 and emphasise to everyone the words, 'Get out and stay out.' Do not go back inside for people or pets and ring the emergency services from outside your home.
Finally, try to keep it light-hearted, the last thing we would want to do is concern our children unnecessarily. The aim is to educate not frighten our children.  Maybe involve them in some fun activities.  Take a walk through the home and talk about the exits, draw a floor plan of your home and let them see if they can point out  all the exits that you saw  whilst walking around.  Allow them to press the smoke alarm and listen to the sound that the detector makes.  Role play with the telephone making emergency calls. Practice your evacuation plan.
Remember EVERYONE needs to know what to do and where to go if a fire breaks out  in your home, you may only have a few minutes so stay safe and plan ahead.
Please visit our Facebook  First Point Fire and Safety  for more fire safety tips and regular updates.